MINISTRY RECOMMENDATIONS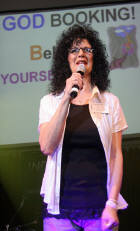 "Valleta was one of the highlights at our
2007 CIA Summit Conference. Her sharing on being booked by God was refreshing and right on the mark! Valleta is a big reason why our event was talked about for months on our
Indieheaven Network!"
KEITH MOHR, President

indieheaven - artist profile | distribution | consulting | development
Indieheaven Blog - indie music blog
the indieheaven network - real social networking for christian indie musicians
indie university - materials and articles for christian indie musicians
PowerPraise Radio -The independent Christian Music Showcase!

---

I am very pleased to write this note of recommendation for Valleta Lanier. My background with her has been in a youth camp setting where she spoke to a group of musicians and pastors over a four day period. I found her to be sincere, well prepared, a convincing presenter, someone that strongly believed in what she was saying, and really wanted to make a difference with the audience she was speaking to.
Also, as an Associate Pastor of Timber Lakes Baptist Church, I was responsible for having she and her family come and be our guests for a very special weekend. During these events
I found her to be at ease with any age, able to relate to men and women, and to have a great sense of humor.
Most importantly, her love for Jesus Christ permeates everything she says and does.
DEAN WATSON
former Associate Pastor of Timber Lakes Baptist Church
The Woodlands, Texas
---

Valleta Lanier is a long-time Christian friend,
prayer partner and mentor.
She is the wife of one of my dearest
and closest friends, Gary Lanier.
Gary and Valleta have been a husband-wife team in the music publishing business for as long as I can remember. My first recollections of the Laniers was when I met them at a music conference close to 30 years ago. After that, Gary, Valleta and their family became good friends to my family, even though we lived miles apart. Gary led worship in revivals in my churches and
directed my choirs in musicals that he had written through the years.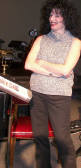 Recently, Gary, Valleta and I had the pleasure of writing and producing a
musical, RAISE THE PRAISE, for The Lanier Company. Gary and I
worked for many hours preparing and writing songs and script ideas. When we thought we had finished with our ideas, Valleta came on the scene. As
Director of Publications for The Lanier Company, she began to shift,
rearrange, and clarify the musical's message and structure. When she
finished with her unique "brush and colors", her God given abilities were
evident on the musical! It left the ranks of being just "another piece of art"
and became a "masterpiece". And that is Valleta! That is what Valleta does so well! She has a way of taking something that is average, turning it into
something exceptionally communicative and - excellent!
She has always kept her husband's and daughter's music ministries in the spotlight by directing and orchestrating those ministries from her position in the background.
I know that Gary, her husband, and Leah, her daughter, would agree with me, their wife and mother is much of the business "savvy" behind The Lanier Company. Valleta is a major "why" their company has been so successful, is represented in over 136 countries, and their music is being sung around the world! She keeps it all running smoothly. Valleta wears so many hats you just wouldn't believe it! And remarkably, she wears all of them well! She is truly an incredibly, blessed with talent - humble woman!
Although I have known Valleta for many years and knew through others that she was a sought after public speaker, I had never had the pleasure of hearing her personally or seeing her in action. I did not know how dynamic a speaker this wonderful Christian lady really was until I heard her one summer...

For several years, I have been hosting summer Christian music camps for young people and adult musicians. At camp we were premiering the musical that Gary, Valleta and I had written. The Laniers were our featured guests for the week. I had asked Valleta to speak to the camp, to motivate and encourage the campers in their ministries for Christ.
She spoke each afternoon to the whole camp. When Valleta took the stage, the whole dynamics of the camp changed! Not only did she motivate and encourage our campers, but their lives were changed forever as she taught them how to structure their lives, their talents and their ministries for service to a living Savior! We all came away from the week challenged - excited - with new goals, new vigor for service to the King of Kings and the Lord of Lords!
Valleta's walk with the Lord is very close and intimate. It's that walk and intimacy with
Jesus Christ that makes her such an effective communicator!
She knows personally the One of whom she speaks!
If your church or organization needs someone who can lift them up, motivate, and encourage them to greater heights, you need to invite Valleta Lanier! You will reap many benefits by having her come to minister and motivate! God has gifted her with communication skills that she uses as she teaches to literally change an organization's dynamics! She is a refreshing change to triteness! It is with sincerity that I recommend to you, my valued friend, Valleta Lanier!
ROBERT PERRITT
American Baptist Association